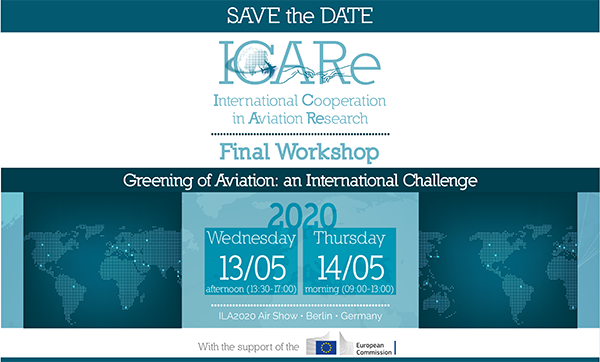 SAVE THE DATE
13-14 May 2020
ICARe Workshop on "Greening of aviation, an International Challenge"
Climate and environmental-related challenges become more demanding with each passing year; the drivers of climate change and biodiversity loss are global and are not limited by continent and national borders.

The European Commission currently proposes a "European Green Deal" to make the European Union "climate neutral" by 2050.

The aviation sector must set out a viable plan towards the greening target and international cooperation could certainly contribute on the development and demonstration of new, key and "green" technologies.

In this context, ICARe organizes a workshop entitled "Greening of aviation, an International Challenge".

The workshop will take place in Berlin on 13 and 14 May 2020, in the frame of the upcoming Aerodays2020, as part of ILA2020 air show.
Stay connected with us. Soon we will release more information about the structure of the workshop (agenda, speakers etc.).